February Menus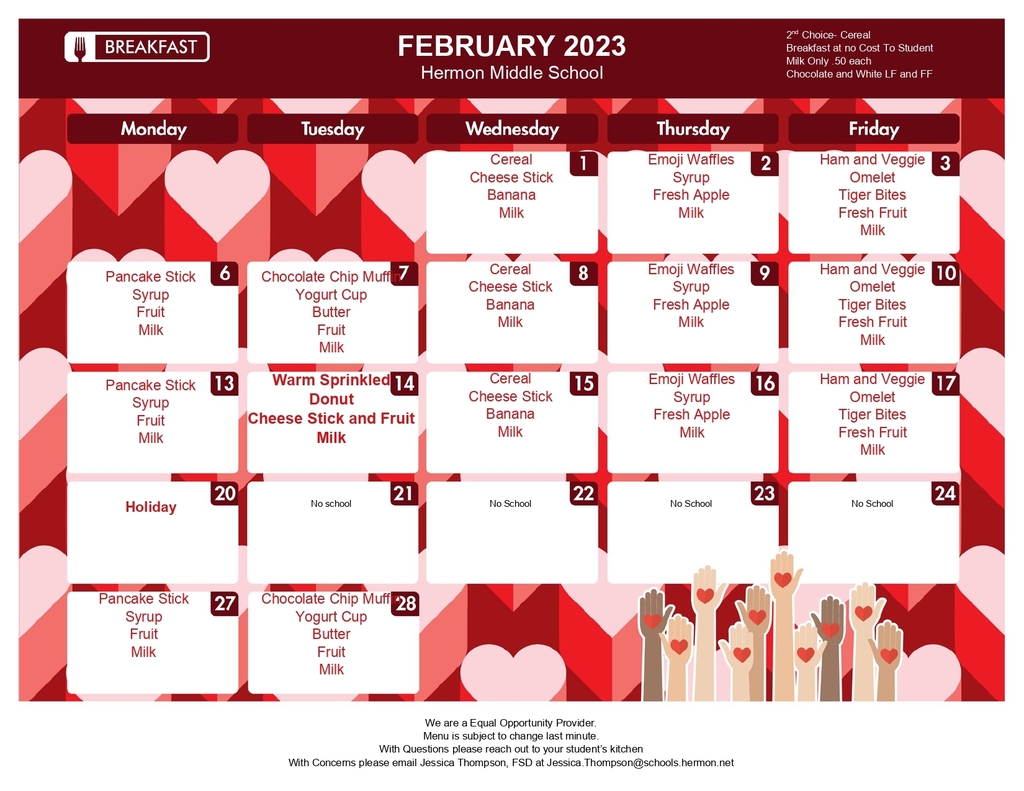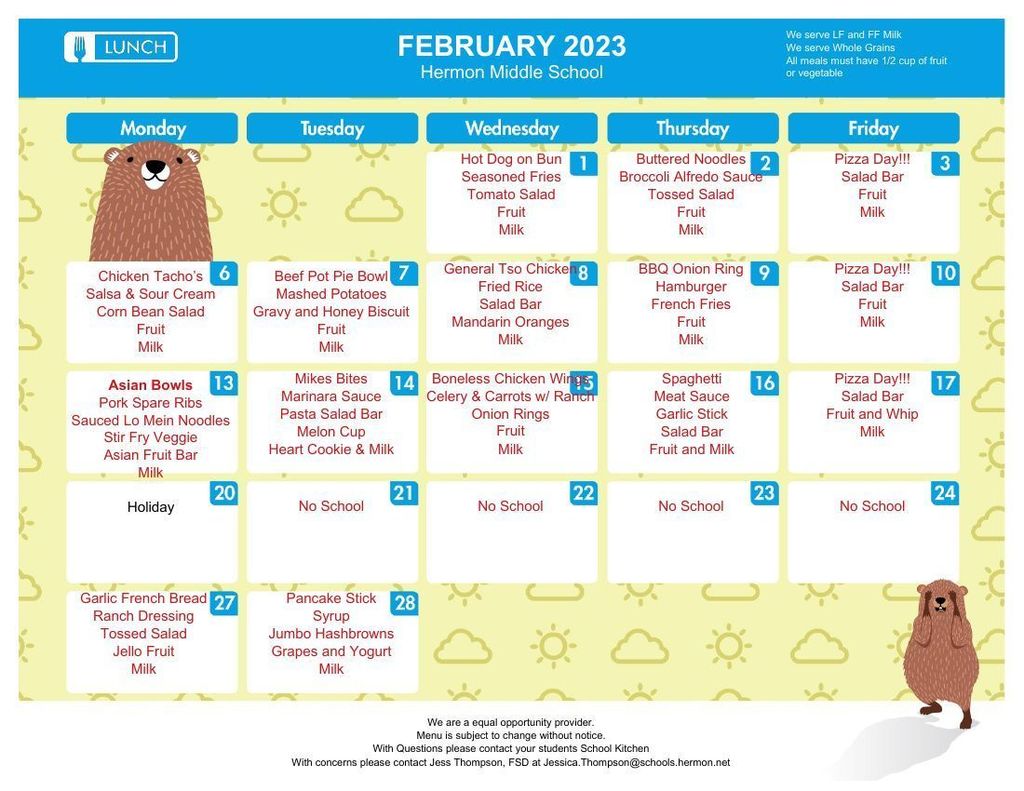 Kindness Month Calendar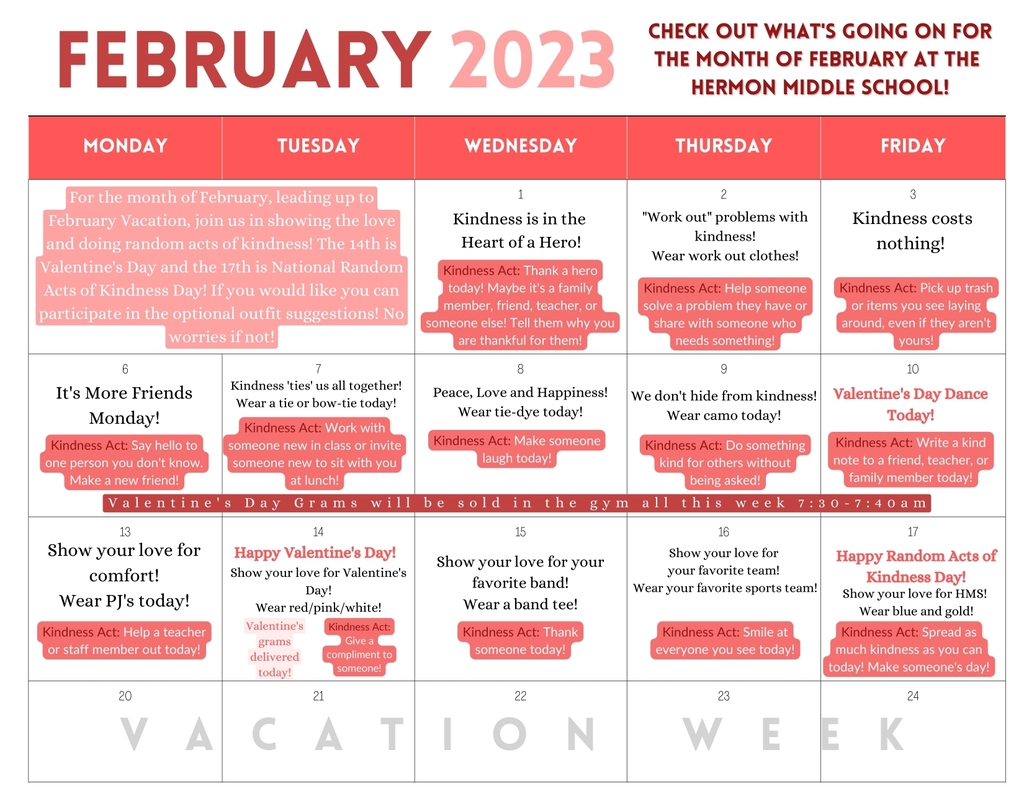 There will be a normal school day on Friday, January 20th. Please drive carefully.
Today HMS teachers and administrators met to review SEBRs. Individual plans were made for students. The students will be bringing these reports home on Friday. A copy will be mailed with report cards next week.
Our 6th grade students are using a model to represent the moon's orbit.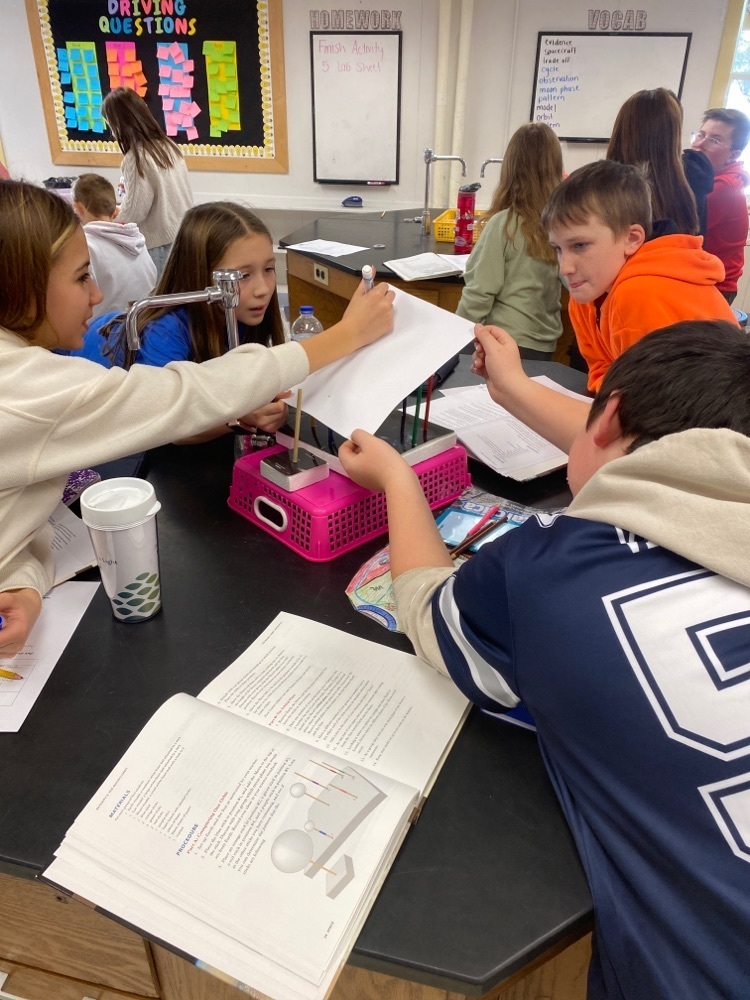 Daily Announcements: 9-26-22 Art Club is limited to 15 for fall and spring sessions and will be on Thursdays 2:30 - 4:00 every week for 8 weeks. Sign ups will be open until September 30. Please see Mrs. Hendrix for sign-up sheet. Students interested in joining a choir – There are information sheets in the lobby for Bangor Area Youth Choir. If you would like to get a Hermon Mountain Season Pass at a discounted rate, you need to apply for this pass before November 1st to get the discount. Applications are on the table in the lobby. BUILDERS CLUB will be Tuesdays After School, 2:30pm - 3:30pm. Friday will be Blue & Gold Day! Be Safe! Be Respectful! Be Responsible!
Good Afternoon, As a reminder, this Thursday, August 25th, will be our summer open house from 1:00 pm to 3:00 pm at Hermon Middle School. The building will be open to students and parents/guardians. The goal of this time is to provide families a time to get schedules and meet their teachers briefly. We understand that this time may be inconvenient for you and your family therefore, the office will be open from 9:00 am to 3:00 pm both Wednesday and Thursday to pick-up schedules. Please do not feel obligated to get schedules and come to the school this week. All materials will be available for students on day one. Mark your calendar; school starts on August 30th. Doors will be open at 7:30. We wish you and your family a great end to this summer, and we will see everyone in one week. Zack Freeman Principal Hermon Middle School

Please join us tonight to celebrate our Eighth Graders in the Hermon High School gymnasium at 6:30. Eighth graders should report to the HHS music room at 6:00.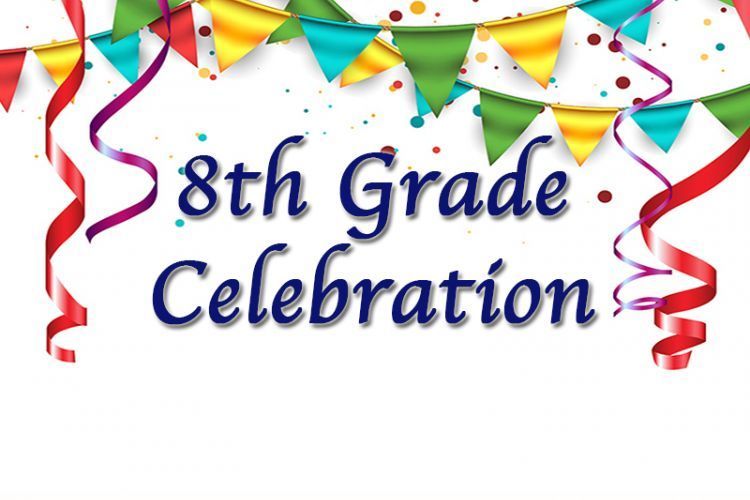 Wednesday March 23rd, 8th grade students last name I-N had an opportunity to meet with Mrs Smith for Course Advising! This Friday students will register for their Freshman classes during their RTI period with their homerooms. Any student who does not have an opportunity to register for classes will register with Mrs. Roy the week of March 28th. I wanted to say THANK YOU to our 8th grade students for showing respect and maturity towards our High School Counselors with the academic advising process. Way to go class of 2026!

HMS is enjoying another week of zero positive pools and no current active cases! Have a great weekend!
Course Advising has gone well so far! Yesterday Ms. Barry came in to meet with students last names A-H. Today's course advising for last names I-N has been rescheduled for Wednesday March 23rd. Tomorrows course advising will be with Mrs. Walsh for last names O - Z. We will keep you posted about when the official registration date will be. This will happen during homeroom sometime next week. Please email Lisa Roy if you have any questions!

No positive pools this week (3/7-3/11) at HMS! Have a great weekend!

Today was random act of kindness day. To celebrate the Hermon Middle School Parent Advisory Council brought in 300 donuts and hot chocolate from DD for our students! What a great day! Thanks to our PAC and the Hermon DD!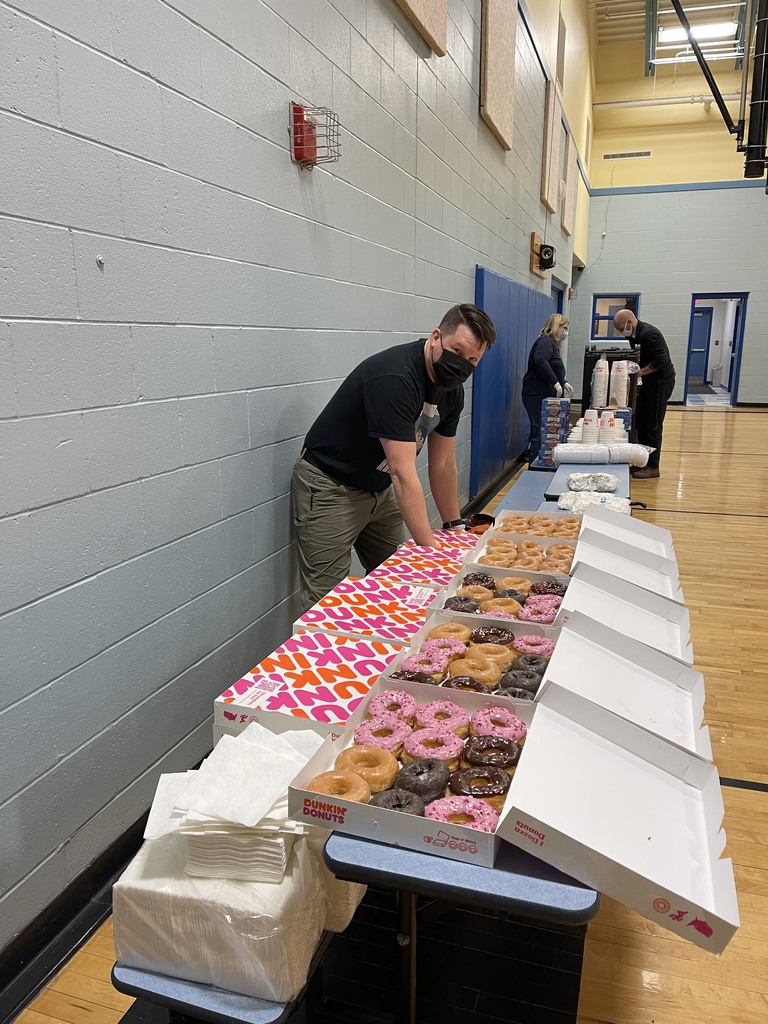 After another busy week of pool testing we currently sit at 10 active student cases and no staff cases! Have a great three day weekend!

Due to the predicted temperature and wind chill advisory, pick-up today we will be conducted like a heavy rain day. Students will be dismissed from the music room a few at a time as their parents/guardian get close to the door. Please anticipate a slightly longer wait time as a result. Thank you.

The ski program is back for another year (starts January 14th). Please see our documents page for permission slip information or stop by the main office for permission slips!

We have launched the parent teacher conference portal. Please follow the link to sign up for a conference. Conferences are on November 9th and November 17th from 4:00-7:30 p.m., and November 22nd from 9:00 a.m.-2:00 p.m. Please go to news, read the letter and follow the link to sign up. Thank you!

Good afternoon. In an effort to make parent drop off safer for students in the morning, we will be sending parent traffic around the building and dropping off at the music room door. We ask that parents drop off at cones 6, 5, & 4 (similar to parent pickup). This should spread parents out along the loop and keep students from crossing moving traffic in the morning.

Per our statement last week, close contact status for our students concludes this weekend and students can return to school Monday September 20th! We can't wait!

We will post the bell times and period schedule tomorrow afternoon (Friday). Students who did not receive a laptop due to being absent can pick theirs up tomorrow (Friday) between 10:30 a.m.-2:30 p.m. in the main office. Students who are quarantined can have a parent or guardian come in to get the device.